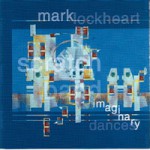 Released March 2002. Catalogue No. ST 004
Mark Lockheart – Tenor & Soprano Saxes
John Parricelli – Guitar
Huw Warren – Piano
Dudley Phillips – Acoustic & Electric Basses
Martin France – Drums
Rowland Sutherland – Flutes
Sid Gauld – Trumpet & Flugelhorn
Dave Priseman – Trumpet & Flugelhorn
Rob Townsend – Alto & Soprano saxes
Richard Henry – Bass Trombone
Jim Rattigan – French Horn
From The Guardian May 2nd 2000 by John Fordham:
World music is becoming ever more prominent at the Cheltenham Jazz Festival. The influence of world music was most strongly felt this year in the Scratch Band, led by former Loose Tubes saxophonist Mark Lockheart. The eight -part festival commission he composed for this group bore some telltale Loose Tubes signs.
It featured abrupt tempo changes; folksy, busy counter-melodies under lurching jazzy horn lines; and a blend of the bluesy and the rustic. But it also marked the maturing of Lockheart as an ambitious composer.
The suite was a compelling melange and had Tubesy clamour; dark, urgent bass ostinatatos with fast, car-chase horn themes on top; long brass fanfares reminiscent of Mike Gibbs and Carla Bley.
In Rowland Sutherland, pianist Huw Warren, saxophonist Rob Townsend and Lockheart himself, the band has improvisers of real character.
From The Times May 2nd 2000 by Alyn Shipton
It took three movements of Mark Lockhearts new festival commission for a four-beat rhythm to turn up, as the first two of the eight dances for his 11-piece Scratch Band were written in six and three respectively. Lockheart's inventive writing was matched by his strong team of well-rehearsed players, built around the core of his regular band Perfect Houseplants.
Most effective was the slow movement "From Another Time" where the brass section contrasted with reeds, guitar and piano.
From Mojo April 2002
Saxist Mark Lockheart has done much striking work with quartet Perfect Houseplants in the past decade, but on Imaginary Dances his restless ingenuity (almost Zappa-esque in places) is given wing by a superb 10-piece band. With a huge stylistic and emotional range, Lockheart's music is contemporary and compelling.
From The Observer April 2002 by Dave Gelly
As both composer and saxophonist, Lockheart has always had a talent for creating impressions and atmospheres. These dozen pieces with his 11-piece Scratch Band are as evocative as ever, conjuring 1930's musicals, rainy afternoons, dusty bullrings and a general air of fond nostalgia. The playing is superb throughout, especially Huw Warren's piano, Rowland Sutherland's flute and John Parricelli's guitar .The most remarkable piece is the two-part Busby Berkeley, which sounds at one point as though it is being played underwater, and ends most satisfactorily, with everyone chasing everyone else.
From Jazz UK April 2002
This album is expansive in scope, yet pays careful attention to detail. One is struck by the immediacy of the tunes and the fertility of ideas. Rapid changes of mood and pace create a constant sense of surprise. Capital of the World, which disrupts a gliding samba with punchy, dramatic riffs, is typically packed with incident. Other pieces emulate the dash and elegance of dance (Fred Astaire and Busby Berkeley are both honoured with tunes) with quirky transcendent themes, or glow with gentle lyricism.
From Jazz Review May 2002
The music slides in upon you with a mixture of imagination and craftsmanship that is irresistible. Lockheart's writing demands plenty of the musicians and equally, deserves the concentration of the listener. For while these pieces are overwhelmingly compositional, little themes and figures emerge unexpectedly from the score in a way that suggests improvisation, instant flickers of ideas which seem to keep their immediacy on the sheet.
From The Times April 2002
Imaginary Dances is full of skittering rhythms and stabbing brass and even a tender soprano-piano duet. The arrangements are inspired and imaginative and doubtless the band is a glorious racket live.
1

The Opener

2

In Two Parts

3

From Another Time

4

Astaire

5

Busby Berkeley (part 1)

6

Busby Berkeley (part 2)

7

Garden Rain

8

Capital of the World

9

This Moment

10

Chorale

11

Before We Go

12

Not Far From The Out