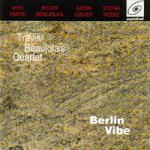 Released October 2001 on Symbol Records. Catalogue No. SR20001201
Theo Travis – Tenor & soprano saxes, flute
Roger Beaujolais – Vibes
Stefan Weeke – Double bass
Bjorn Lucker – Drums
Produced & arranged by Theo Travis & Roger Beaujolais.
Recorded & mixed December 2000 at Red Gables Studios engineered & mixed by Dick Hammett. Released Oct 2001.
Catalogue No. SR20001201
From 'Jazzwise' (Nov 2001) by Alyn Shipton, the review gave us 4 stars (out of 4).
"Fresh original music from two of Britain's best soloists, teamed with a pair of star players from Hamburg, bassist Stefan Weeke and drummer Bjorn Lucker. Travis is not afraid to experiment with structure – why not use drums to close a lengthy original? – and his flute playing goes from strength to strength. The blend of flute and vibes gives the quartet an airy, ethereal sound, and this carries over to the tracks where Travis plays soprano or tenor. And, although it's hard to do, he catches the energy of his live sets, especially the way he builds from a gentle bluesy opening to the climax of his own "Lark in the Dark". Both UK contributors hold their own as composers, too, notably Beaujolais' ballad "For Those Who Dream"."
From 'Tablet Jazz Reviews' by Chris Parker
"…… on everything from classy blues (Milt Jackson¹s "Bags' Groove") to freeish material (Anthony Cox¹s "Conclusion/Beginning"), plus a few cogent band originals, he (Theo) plays flute, soprano and tenor, joined by the fluent but powerful vibes player Roger Beaujolais and the German rhythm section featured on some of Heart of the Sun, bassist Stefan Weeke and drummer Björn Lücker. Two highly accomplished releases from a mature, thoughtful talent.
From 'The Birmingham Post'
There are certain combinations of instruments not heard often enough, and the flute/vibes front line is one of them. Saxophonist Theo Travis switches to the long thin silver thing on a number of tracks to complement his co-leader Roger Beaujolais's vibraphone, and they are joined by a German rhythm team for this thoroughly satisfying session of melodic improvisation both on original themes and the odd old warhorse like Milt Jackson's "Bag's Groove". The joy and satisfaction both leaders get from bouncing ideas off each other is clear and augers well for a more lasting partnership.
From 'The Scotsman' by Kenny Matheison
Travis composes real tunes, nicely varied in mood and setting, and with shapely melodies underpinned by strong harmonic and rhythmic structures……… Travis invariably finds something both surprising and satisfying to say on any given piece, and has a beguiling, richly burnished tone on tenor saxophone to complement his intelligent musicality.
From 'The Guardian' by John Fordham
Travis' spinning of sax adventures around a core of bluesy soulfulness has made him an engaging communicator.
1

Everything Matters (Theo Travis)

2

Life in Sand (Theo Travis)

3

Lazy Days

4

Conclusion/Beginning

5

Some Things Just Happen

6

Two of a Kind (Rob Statham)

7

It's About Time

8

Bag's Groove (Milt Jackson)

9

For Those Who Dream

10

Lark in the Dark (Theo Travis)

11

Flash in the Pan